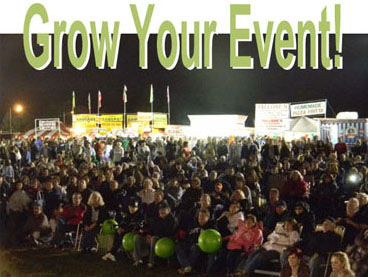 You and your event committee have been working harder and harder, year after year. You've done more marketing. You've even set up a facebook page. So why isn't your event growing?
Frustrated with the results of all your work? Have you started asking, what's wrong - we work harder and harder with the results being the same or even less? How do we make our event better?
How many more years can you and your committee keep up this crazy pace? How many more years can your event and organization survive with the returns from your event remaining the same or shrinking?
Stop going crazy.
We can help!
We've been growing events for nearly 20 years. We will put a system in place to grow your event, year after year, drawing larger audiences, making more money, and driving more results than you thought possible.
We've grown a brand new festival from nothing to attendance of 100,000 in four short years.
We have taken over an arts festival and grown artist participation by 50% and attendance by 65% in one year, ONE YEAR.
And we've sold out another event three years in a row.
We can do this for you and your organization. We'll help you reach and surpass your goals, year after year, with less stress, more enjoyment, and more results.
Give us a call to talk about your event. We can help!